Where luxury embraces aesthetics, discernment, life and privacy as one. Inspired to create the ultimate standard in luxury as in life, The Grand not only presents many first, but also the coming together of many facets in a cohesive synchronization that is a Masterpiece. Where aesthetics that evoke the senses combine with creative spaces to enhance life's moments. The Grand is the standard in luxury apartment projects situated in the heart of Colombo 07, Ward Place.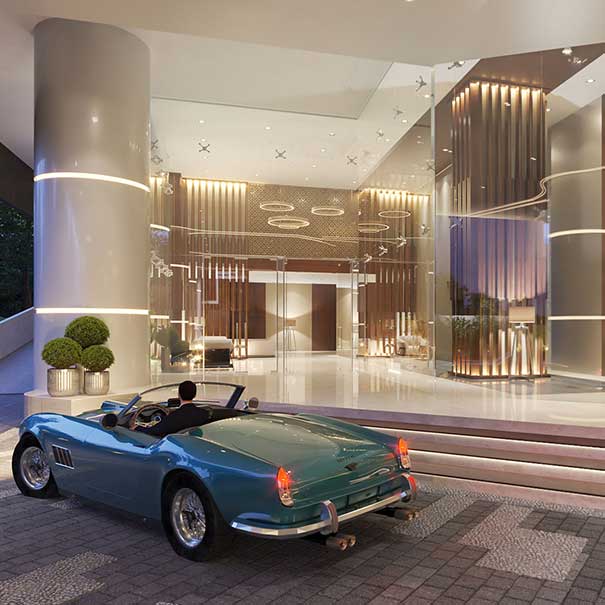 over 50,000 sq.ft for
leisure and recreation
Pay only 30% now
limited time offer
Values Of Living In
The Grand Residence
CORE ARCHITECTURE
Designed to stir your inner senses. The Grand's architecture is the embodiment of privacy itself. The tower comprises of 2 wings which ensure no apartment overlooks one another. Thoughtfully placed light wells throughout the residencies offers enhanced light and ventilation
Best Fittings in the market
Worlds most advanced glass laminating system (Sentry Glass) Used for balcony handrails
High performance proprietary aluminum façade (Sapa, Belgium)
Energy Efficient Mitsubishi VRV Air Conditioning Systems
Kohler Bathroom Fittings (USA)
Schneider Switches and Sockets (France)
Fully equipped pantries (Sea, Germany)
Pantry Appliances from Burg, Germany
All bedrooms will be fitted with solid wood timber (Indonesian Teak)
Sustainability
River sand has been replaced with manufactured sand
Use of HPC (high performance concrete) to reduce other raw material usage during construction of the building
Use of reusable aluminum frame work as an alternative to traditional timber work during construction
Rainwater harvesting for landscaping and other purposes throughout the development
Our residences are fitted with the worlds most advanced cooling systems by Mitsubishi
Our 2.9m sliding doors are fitted with double glazed + Low E rated glass to ensure minimal heat transfer indoors.
Our bathrooms are naturally ventilated, eliminating the need for mechanical ventilation
Energy saving mechanisms introduced by BMS (Building Management System)
Powder Coated LED light fittings used throughout the building to keep energy consumption minimum.
Developer
The maestro of real estate artistry in Sri Lanka, Prime Group is architectured by its subsidiaries associating lands, housing, finance and condominiums. Celebrated with over 25 year of unparalleled trust and excellence, Prime Group is commended "The Best Developer of Sri Lanka" awarded by Asia Property Guru; the most distinguished achievement in the local Real Estate Arena.
Prime Group is also accredited among Asia's Best Brands and the Best Entrepreneur in the year 2018 by Asia One Magazine.
The group I driven by its evergreen vision "Committed to creating a better place on earth", the inspiration behind the excellence and passion to enliven customer anticipations.
The Grand, the masterpiece of the real estate maestro is the epitome of luxury, pinnacle of investments and the paramount of prestige and it is set to paint the Colombo 7 horizons in 2022.
Partnering Experts
Main Contractor- Maga Engineering
Architects- DG5 (Design Group 5)
Structural Engineering (Under DG5 purview)
CSEC (Civil & Structural Engineering Consultants Pvt Ltd & Prof. Priyan Mendis)
Quantity Surveyor- V Form Consultants
Interior Design- IIDA
MEP Peer review- Meindhart pte. Ltd (Singapore)
Wind Tunnel Testing- RWDI (India)
most expensive
real estate in Sri Lanka
Colombo 07 has always been the residential hotspot since the inception of modern Colombo. In Colombo 07, Ward Place has been the envy of the city from time unfold. The Grand currently stands tall as the only high rise luxury apartment project in Ward Place, Colombo 07.
Surrounded by lush greenery and residential avenues, Ward Place brings together a unique sense of legacy and luxury. The Grand is ideally located in the heart of the most Residential street of Colombo within a stone throw away to leading schools, hospitals, embassies, restaurants and shopping malls.
Only high rise in
colombo 07.
Thirty seven floors of utmost privacy and prestige spanned across over and acre of prime real estate effortlessly marks The Grand, the Residential haven in the heart of Colombo 07.
get in touch
for more details